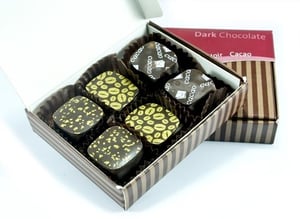 $

110.00
This exclusive chocolate appreciation masterclass with Laurent Meric, Maitre Chocolatier of Cacao Fines Chocolates will take you through the world of chocolate, the origins and history, the production and the plant itself, and of course the good effect of its consumption! There won't be any guilty afterthoughts!
Participants will enjoy tastings of chocolates of diverse origin, the Cacao fine chocolates and take away some printed information as well as a gift wooden box of four chocolates.
To customize this event for your private function, please contact us. Alternatively, book now for a minimum of 12 people and we will organise the event according to your date and venue requirements.
Champagne or other drinks can be organized in addition to the standard chocolate event. Please contact us for a quote.